Herbal Treatments for Female Patterned Hair Loss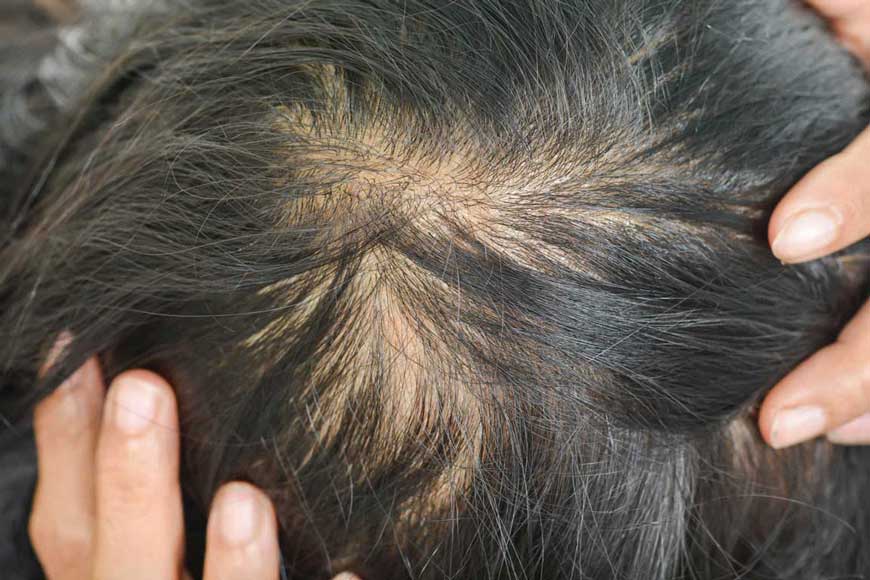 Experts point out that a healthy diet is important to healthy hair. A diet rich in the following is particularly important for menopausal women since age increases the risk of hair loss: 378
Complex carbohydrates
Low glycemic index foods
Proteins (for amino acids)
Minerals
Vitamins
The following herbs, botanical extracts, and nutrients may also be helpful in treating
female pattern hair loss
:
37, 90, 91
Herbal and Botanical Remedies for FPHL/AGA

HERBAL REMEDIES FOR FEMALE
PATTERN/ANDROGENIC HAIR LOSS

HERB or FORMULA

HOW IT WORKS

BeauTop

A Traditional Chinese Medicine (TCM) formula, BeauTop may help some people with androgenic hair loss. It contains the following natural extracts: 376

Ginseng root
Astragalus root
Angelica sinensis root
Ligustri fruit
Rehmannia glutinosa
Eclipta prostrata

CG210® Lotion

Made with cocoa, lemon, onion extracts, the topical lotion significantly regrew hair in women in a clinical study. The clinical trial lasted 6 months, and was randomized and placebo controlled. 372

DA-5512 Herbal Formula

Compared to placebo or 3% minoxidil, DA-5512 significantly promoted healthy hair and hair growth after 16 weeks of use in a small clinical trial. 345

DA-5512 is made from 6 herbal extracts: 345

ECOHAIR® Topical Spray

Made with extracts from chaparral and arabica coffee. 371

In a small clinical trial, the botanical spray reduced hair loss and improved the appearance of hair, especially in patients with androgenic hair loss. 371

Green Tea

Licorice

Inhibits conversion of testosterone to DHT. 37

Melatonin

Multiple clinical studies show topical melatonin significantly reduces hair loss in women with androgenic hair loss. 373

Natural Plant Extracts (NPE)

Preclinical research suggests that NPE made from the following 7 herbs may work as well as minoxidil without the adverse side effects: 375

These botanicals and herbs contain many antioxidant and anti-inflammatory compounds. 375

Proprietary Herbal Formula

The following herbal combination reduces the expression of IL-1α in hair follicle cells, and may be beneficial in treating female AGA, telogen effluvium, and alopecia areata: 370

The IL-1α gene directly inhibits growth of hair follicle cells and contributes to thinning hair. Chemical analysis of the above antioxidant and anti-inflammatory herbs show they contain beneficial vitamins and nutrients, including: 370

Saw Palmetto

Inhibits 5-alpha reductase enzymes. 95

Seven-Treasure Pill for Beautiful Whiskers

TRINOV Lotion

TRINOV lotion contains compounds derived from soybeans, a polyunsaturated fatty acid, and a metabolite of L-carnitine. 374

In a small clinical trial topical application of the lotion daily significantly regrew hair. Hair growth was noticed after one month. 374
It should be noted that not all treatments that work for male androgenic hair loss will work in women (and vice versa). For example, results from a clinical trial showing that topical rice bran extract helped regrow hair in men showed no statistically significant benefit in women. 377
Substances to Avoid
Some herbs and nutritional supplements may actually worsen androgenic hair loss in women and should be avoided:
Herbs & Nutrients to Avoid with FPHL

HERBS & NUTRIENTS THAT MAY INCREASE
FEMALE ANDROGENIC HAIR LOSS

HERB/NUTRIENT

WHY?

DHEA

DHEA is a precursor to androgen hormones secreted by the adrenal glands. Excess androgen effects such as hair loss have been noted in women taking 200 mg/day of DHEA. However, DHEA may be helpful if you have adrenal deficiency. 96

Sarsaparilla

May increase androgenic effects by stimulating production of testosterone, which converts into DHT (an androgen known to play a role in hair loss). 98
Avoid if you have Cushing's Syndrome or Cushing's Disease since it may exacerbate the disease.