Make Your Hair Look Thicker: Styles for Thinning Hair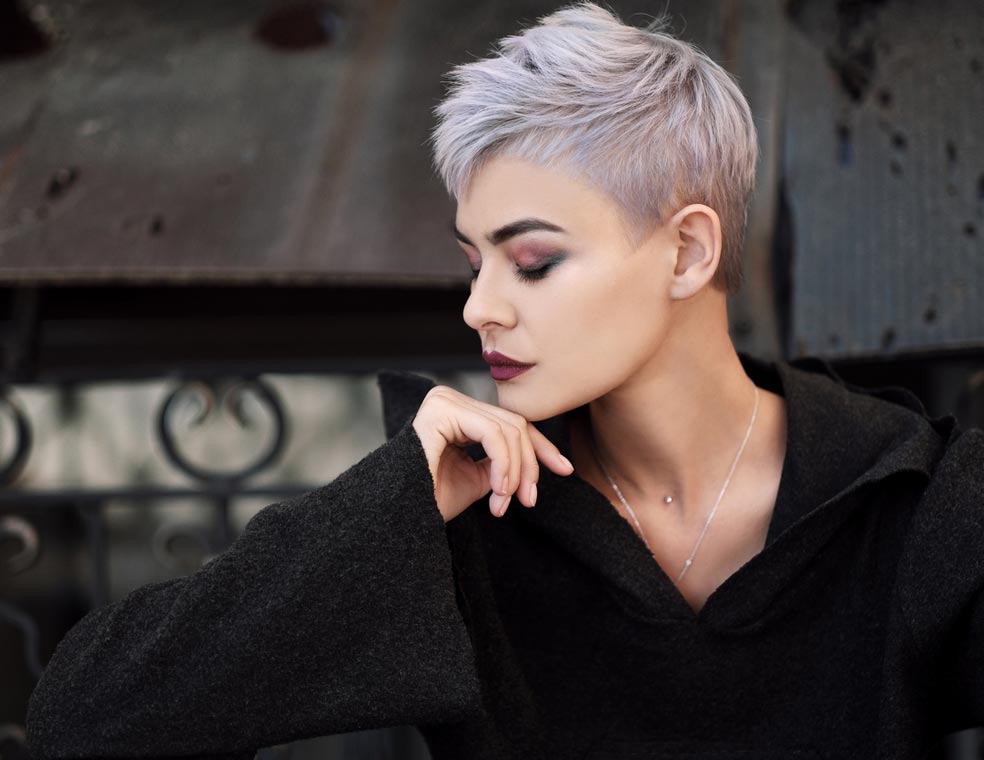 Some of us are born with thin, fine hair. Others of us may notice our hair gradually thinning. As men and women age, both genders have increased hair loss., with female hair loss primarily diffuse hair thinning throughout the scalp, as opposed to male balding patterns (whether due to telogen effluvium or androgenetic hair loss). Additionally, hair can be damaged from heating, processing, products, and styling, which makes it much more challenging to find the right cut or style that works with your hair.18
The Big Tease?
No, we are not suggesting turning your hair into a mass of 1980s big-hair frizz or the 1960s beehive. But back-combing, when done properly, can add height and volume without damaging your hair. Here's how, from The Makeover Guy Christopher Hopkins: 283
Working in ½ to 1-inch segments, pull the hair up tightly.
Use a fine-toothed comb and start pushing the hair down toward the scalp from the base of each section up. Work each section where you want to add volume in this way to form a foundation mat of hair.
Apply some hairspray over this foundation and let it dry.
Smooth over just the surface of this foundation with a brush or fine-toothed comb and style; spray again lightly.
However, other experts warn that teasing your hair does damage it—so perhaps save this tip for special occasions only. 74
Consider Curls
For more volume, you may also curl the hair. Use a curling iron if your remaining hair is thicker or healthy. Using a hot roller set can add fullness and volume to the hair, but watch out for over-heating the already-fine locks and let your hair cool before styling. If your hair is very thin or fine, use sponge rollers that do not require any heat, and therefore are friendly on your hair. Then, arrange the curls so that they conceal the problematic thinning areas. 283
Lighten Up
If you have thinning hair, consider going to a lighter color since it will reduce the contrast between your scalp and the hair you do have, making thinner areas less noticeable. 284
Cuts and Styles for Women with Thinning Hair
Cuts and styles that are appropriate for women (for men, check out Tips for Men) with thinning hair include: 284
Lose the length. Shorter hair can give the illusion of thicker hair since it is less weighed down. Bobs and crops can be very stylish (think Halle Berry). If you are worried about the cut looking "boyish" remember, you can always glam it up by adding feminine accessories and by styling in more volume, height, and curl. You can also play with a daring angled or spiked hair style (think Sharon Stone), combined with some volume-boosting mousse, to create a fashionable, unique look.
Bald (or almost-bald) and beautiful.Think Demi Moore in "GI Jane" or buzz-cut Danai Gurira from "The Walking Dead" (sans dreadlocks). This is a very fashionable, bold, perhaps-surprisingly gorgeous look.
The swept-up look. Try some sexy side-swept bangs. Add some layers and a gentle wavy-look to the mix for a total illusion of fullness and thickness. Side-swept bangs will also draw attention away from the scalp, to the face, eyes and cheekbones.
The up-do. A more formal look, up-dos can add extra oomph to your hair. Pull the front part of you bangs or hair into a loose puff in the front, and fasten with a clip. The rest of the hair can be smoothed back into a loose ponytail, twist, or bun.
Accessories for Thinning Hair
Accessories can do wonders for adding thickness to your hair's appearance or disguising areas of thinness.283
Headbands.Try incorporating a thick headband to disguise a thinning part-line. Also, choose headbands that have circular teeth. This will give your roots an instant lift, and a fuller look.
Bobby-pins. Using thin bobby-pins to fasten pumped up (back-combed) sections of the hair is also an option for creating a chunky look with added depth.
Scarves. You can also adorn hair with a folded scarf for the "hippy chic" look while disguising any thinning areas.
Boosters. There are also several hair-volumizing accessories available on the market. These usually consist of a type of boosting-comb, worn concealed in the hair that pumps the hair up in the front thus giving the appearance of volume and height.
Accessories to Avoid
When considering hair accessories, remember that the goal is to add height and volume without weighing the hair down. Do not use tight elastics that will actually accentuate the scalp that is showing through hair. Avoid any heavy accessories that pull on the hair too much, as this will actually cause further damage to the already-delicate strands. Avoid wide-toothed clips, or other accessories, that slip through fine hair. If your hair is very thin, you can also use bobby pins to anchor your fine locks underneath the accessory.
Disclaimer: This website is not intended to replace professional consultation, diagnosis, or treatment by a licensed physician. If you require any medical related advice, contact your physician promptly. Information presented on this website is exclusively of a general reference nature. Do not disregard medical advice or delay treatment as a result of accessing information at this site.